Description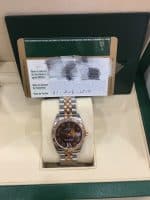 Rolex 178271 rose gold brand new for sale. All stickers intact. Full set.
Kindly read the below terms and conditions:
1. Can still give discount for the watch or Jewellery.
2. You can do a Rolex servicing (we have ex-Rolex technician with us who has retired from Rolex) for $250 with us when Rolex will charge $800-$1000. We do some other brands servicing as well. Rolex after service warranty cover 6 months.
3. Rolex authentication service verbal $50. AP authentication $70, Tudor $100, Omega $50, Cartier $80.
4. Quotation for buy in Rolex watches will only be given when you bring it down to our shop for us to examine fully and not via phone or PM thanks. Trade in will only be for Rolex with Rolex.
5. We provide one year free warranty for the Rolex watch purchase at our shop in orchard.
6. You can sell us your Rolex, we do buy in most Rolex. We hardly buy in Omega or Tudor and Panerai.
7. Rolex polishing $150/$180.
8. UOB credit card instalment available 6/12/24 months.
9. Prices are subject to change due to market, kindly double check current price with me.
10. Pay by credit card need add bank charges of 2.5%, instalment 3%. We prefer cash/nets/bank transfer on the spot easier for us.
11. Change of luxury watch brands battery $10-$20. leather strap $50.
12. Jewellery repairs and custom made rings available
13. PM me for further information cheers.
14. Low baller will not be entertained. Into serious buyer only thanks.
15. My reply are instant normally if not im away or sleeping.
16. We are located at Far East Plaza #04-121, opposite escalator Monday to Friday 1-6pm, Saturday 1-5pm only, close on Sunday and public holiday. Three Crown Jewellery, quote me for discount, i am Shawn. Edmund is the boss. Cheers.
17. Follow me on carousell https://carousell.com/sk1368/
18. All items sold price are confidential. I will respect all customers by not revealing the exact price sold thank you.
19. Please come down for viewing if you would like to try the size and get a feel of the item instead of seeing the pictures itself.